Personal Experiences with
The Nia Technique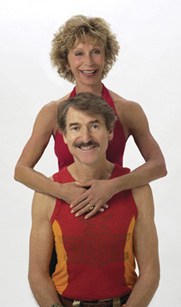 My husband Allen and I first discovered The Nia Technique at Rancho La Puerta in 1994. I had been looking for a high-energy workout but had been having shoulder and back problems and was concerned about further damage and pain. We both felt an immediate connection with the music, movement and magic of Nia - and nothing hurt!
When we returned to Chicago, we continued to explore Nia through video tapes purchased from the Nia headquarters in Portland, Oregon. Despite my busy career as a college English instructor and Allen's as an oculo-facial plastic surgeon with a hectic medical practice, we were so impressed with the improvements in our physical and psychological fitness that we made a commitment to become Nia instructors in 2002.
We both have experienced dramatic improvement in our posture, alignment, core strength, flexibility, muscle definition, and balance. For me, Nia has been a healing force: through The Nia Technique I feel significant relief from rotator cuff damage, slipped disc, and spinal stenosis.
Moving rhythmically and playfully to wonderful global music in a group is fun. Moreover, the various Nia routines provide ample space to allow for a private experience of emotional release. Nia invites expressive movement, awakening instinct and creativity as the mind becomes silent and the body takes over.
Truly, Nia is "medicine for the soul." Please come and join us.
Lynett Putterman, Black-Belt Licensed Nia Instructor